El popular influencer japonés "とあるん" (@toarutoa) ha generado un revuelo en la comunidad de amantes del anime en Japón al compartir su lista personal de los 100 mejores animes. Esta selección ha causado sensación en las redes sociales y se ha convertido en tendencia, especialmente entre aquellos que comparten su pasión por la animación japonesa.
La lista de "とあるん" incluye una amplia variedad de géneros y estilos de anime, lo que la convierte en una guía diversa para los amantes de la animación. Lo más destacado de esta lista es que ha despertado un gran interés y debate entre los fanáticos, quienes han encontrado afinidad con muchas de sus elecciones.
La lista, que se presenta en orden descendente desde el puesto 100 hasta el número 1, ha atraído la atención de los amantes del anime en Japón, y en particular, las primeras diez posiciones han generado mucho entusiasmo y acuerdo. Algunos de los títulos en las primeras posiciones son conocidos por su impacto en la industria del anime y su influencia en la cultura popular.
Entre las posiciones destacadas de la lista se encuentran animes icónicos y muy queridos por los fanáticos, que han dejado huella en la historia del anime. Aunque la lista es subjetiva y representa las preferencias personales de "とあるん," ha generado una conversación animada y un intercambio de opiniones entre los internautas.
1. Code Geass: Lelouch of the Rebellion.
2. Shingeki no Kyojin.
3. Violet Evergarden.
4. STEINS;GATE.
5. CLANNAD.
6. Angel Beats!
7. Mahou Shoujo Madoka Magica.
8. Higurashi no Naku Koro ni.
9. Fullmetal Alchemist Brotherhood.
10. ef.
11. Summer Time Rendering.
12. Charlotte.
13. Uma Musume: Pretty Derby.
14. 86: Eighty-Six.
15. Sakura-sou no Pet na Kanojo.
16. Koutetsujou no Kabaneri.
17. Yuuki Yuuna wa Yuusha de Aru.
18. Shuumatsu Nani Shitemasu ka? Isogashii desu ka? Sukutte Moratte Ii desu ka?
19. Cyberpunk: Edgerunners.
20. Baccano!
21. Horimiya.
22. Akudama Drive.
23. Hibike! Euphonium.
24. Kaguya-sama: Love is War.
25. Shirobako.
26. True Tears.
27. Toji no Miko.
28. Toaru Kagaku no Railgun.
29. Toradora!
30. Sora yori mo Tooi Basho.
31. Ga-Rei: Zero.
32. Vivy: Fluorite Eye's Song.
33. Boku dake ga Inai Machi.
34. Yojouhan Shinwa Taikei.
35. Kimetsu no Yaiba.
36. White Album 2.
37. Princess Tutu.
38. Digimon Adventure.
39. Fantastic Children.
40. Made in Abyss.
41. Yakusoku no Neverland.
42. Anohana: The Flower We Saw That Day.
43. Planetes.
44. Mirai Nikki.
45. Aria the Animation.
46. Love Live! School Idol Project.
47. AIR.
48. Kanon.
49. Tsuki ga Kirei.
50. Monogatari Series.
51. Mushishi.
52. Kobato.
53. Fate/Stay Night: Unlimited Blade Works.
54. Nagi no Asu kara.
55. Shigatsu wa Kimi no Uso.
56. Little Busters!
57. Re:Zero kara Hajimeru Isekai Seikatsu.
58. No Game No Life.
59. Claymore.
60. Katanagatari.
61. Mushoku Tensei: Jobless Reincarnation.
62. The Idolmaster.
63. Kono Yuusha ga Ore Tueee Kuse ni Shinchou Sugiru.
64. Blue Lock.
65. Gosick.
66. SSSS.GRIDMAN.
67. Kaleido Star.
68. Ouran Koukou Host Club.
69. Fate/Zero.
70. Shinsekai yori.
71. Jormungand.
72. Seishun Buta Yarou wa Bunny Girl Senpai no Yume wo Minai.
73. Sword Art Online.
74. Saiki Kusuo no Psi-nan.
75. Kakushigoto.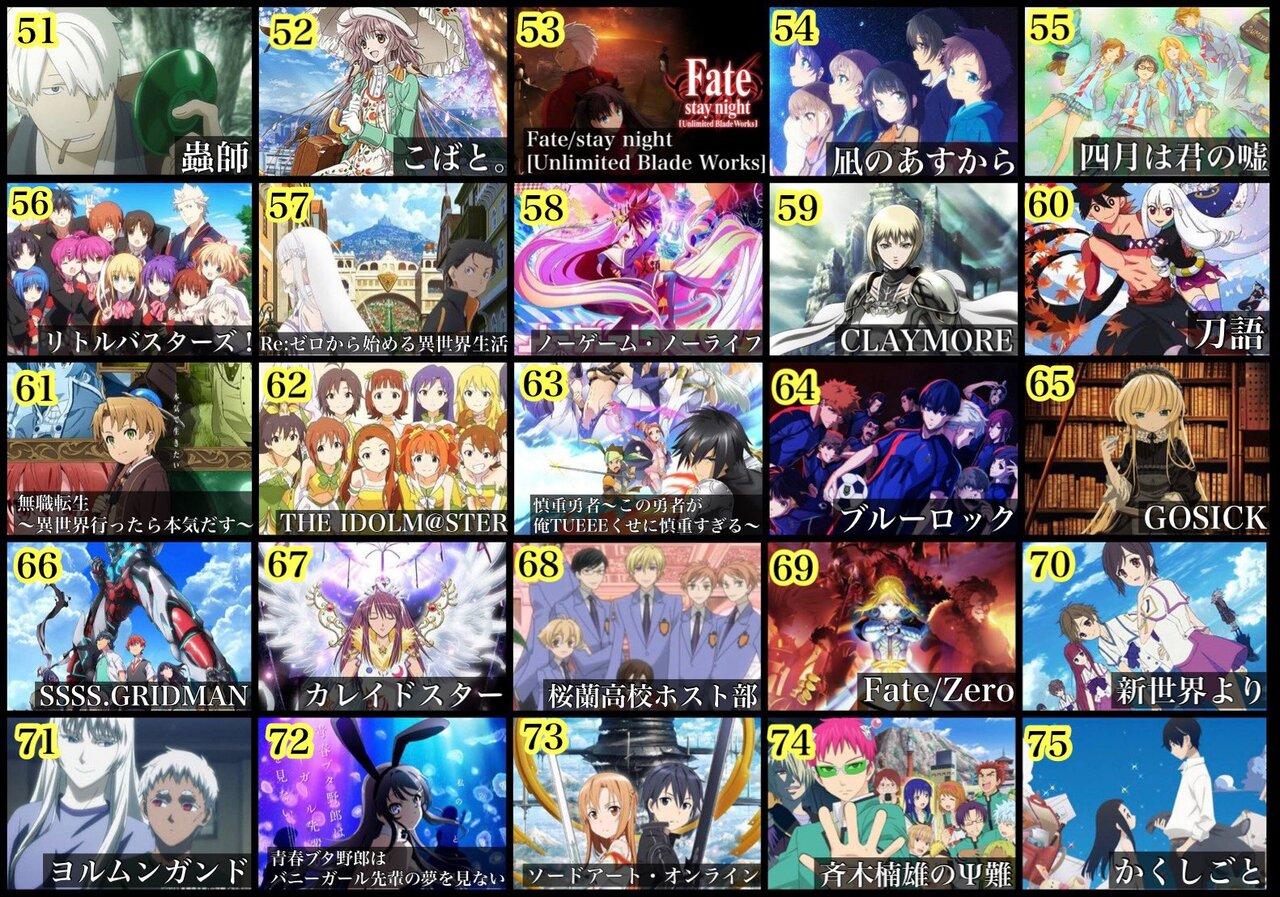 76. Fumetsu no Anata e.
77. Kanata no Astra.
78. Aldnoah.Zero.
79. TIGER & BUNNY.
80. Just Because!
81. Ookami to Koushinryou.
82. So Ra No Wo To.
83. Irozuku Sekai no Ashita kara.
84. Suisei no Gargantia.
85. Kageki Shoujo!!
86. Tasogare Otome x Amnesia.
87. Black Lagoon.
88. Boku wa Tomodachi ga Sukunai.
89. Bokurano.
90. Natsume Yuujinchou.
91. Fushigi no Umi no Nadia.
92. Gunslinger Girl.
93. Kill la Kill.
94. Akebi-chan no Sailor-fuku.
95. Zetsuen no Tempest.
96. Banana Fish.
97. Bokura wa Minna Kawai-sou.
98. NHK ni Youkoso!
99. Fate/Stay Night.
100. Princess Principal.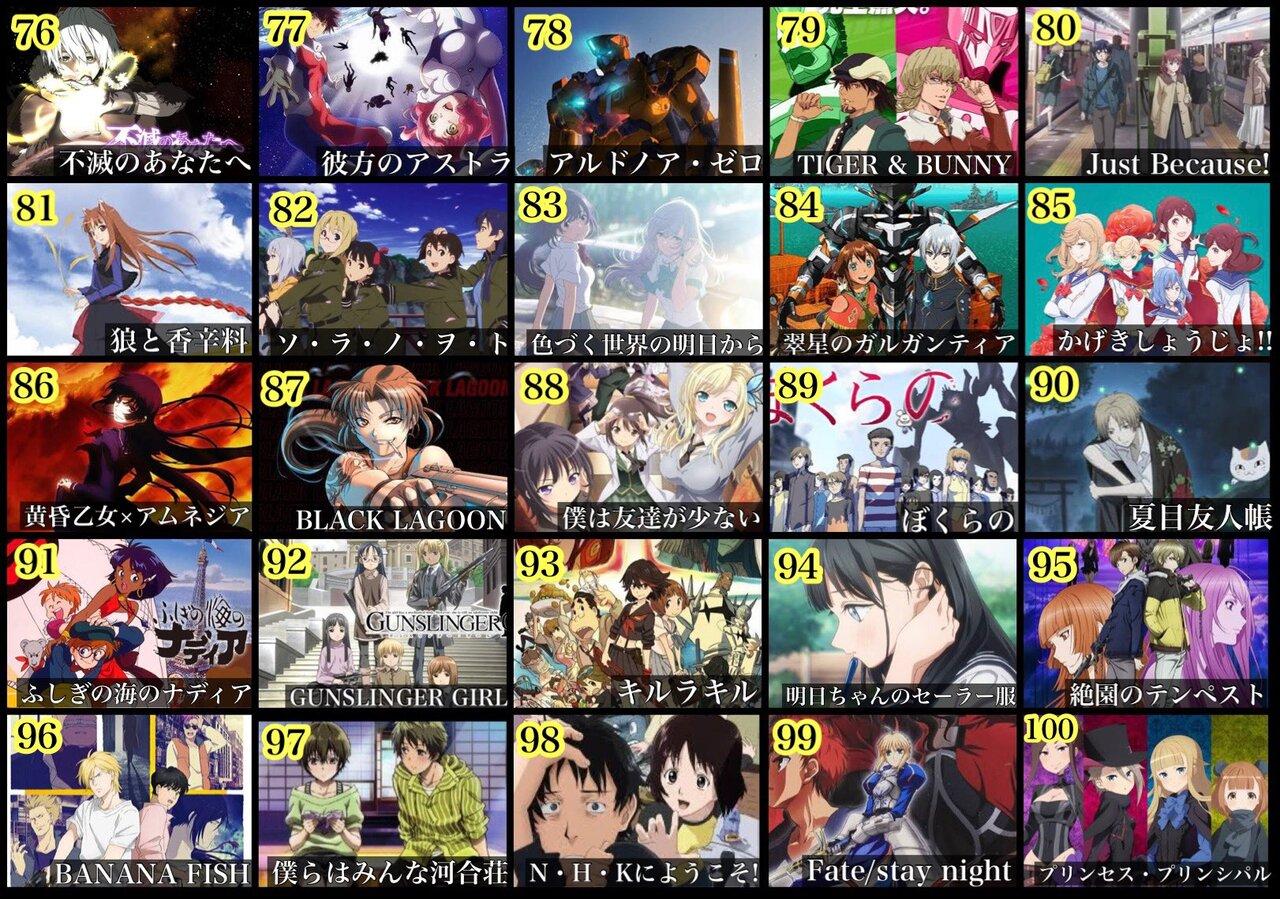 Fuente: Otakomu
La entrada Los cien mejores animes de la historia según los japoneses se publicó primero en Kudasai.