Bandai Namco ha anunciado que el 23 de julio a las 20:00, hora japonesa, celebrará una emisión en directo vía Niconico para conmemorar el 14.º aniversario de la franquicia The Idolm@ster.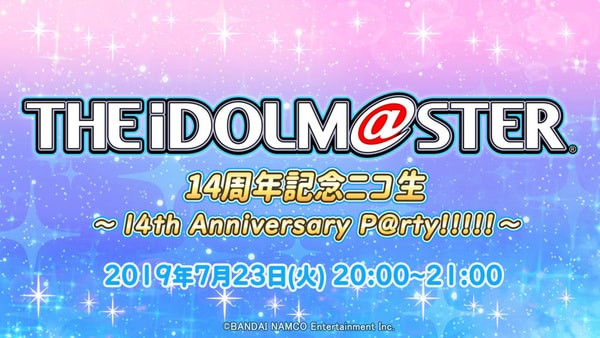 En la emisión participarán varias voces y personas relacionadas con la franquicia:
Kenji Akabane (productor del anime The Idolmaster TV)
Eriko Nakamura (voz de Haruka Amami en The Idolmaster)
Ruriko Aoki (voz de Riina Tada en The Idolmaster: Cinderella Girls)
Yui Watanabe (voz de Nao Yokoyama en The Idolmaster: Million Live!)
Takuma Terashima (voz de Touma Amagase en The Idolmaster: SideM)
Mayu Mineda (voz de Meguru Hachimiya en The Idolmaster: Shiny Colors)
Youzoou Sakagami (productor general de The Idolmaster)
La primera entrega de la franquicia llegaba en 26 de julio de 2005 a los arcades japoneses.
Fuente: Gematsu