Falcom ha lanzado un video de ocho minutos en los que nos dejan un avance de las dos mini bandas sonoras de Ys IX: Monstrum Nox.
Como ya se había revelado anteriormente, las primeras copias del juego en Japón incluirán la mini banda sonora "Code: Red", mientras que la edición coleccionista del juego sumará la "Code: Black".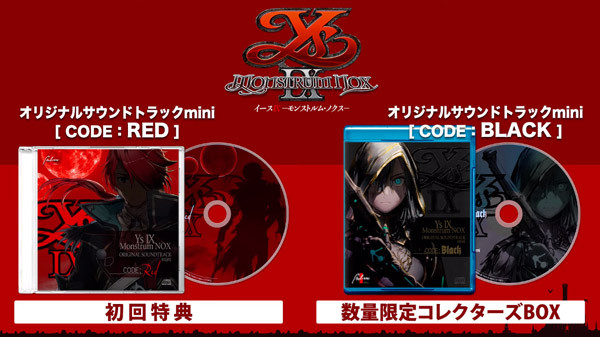 Las pistas de cada una son las siguientes:
Code: Red

"Cloaca Maxima"
"Strategic Zone"
"Take It Easy!"
"Crossing A/A"
"Forgotten Days"




Code: Black

"Welcome to Chaos"
"Marionette, Marionette"
"Tranquil Silence"
"Dreaming in the Grimwald"
"Invitation to the Crimson Night"
Ys IX: Monstrum Nox se lanzará el 26 de septiembre en las PlayStation 4 de Japón.
Fuente: Gematsu