El popular usuario de Twitter japonés "とあるん (@toarutoa)" compartió un listado con las 50 mejores series y películas de anime del año 2022, según la opinión de los usuarios de Twitter a través de encuestas. El proceso de obtención de los resultados no es especificado, pero aparentemente muchos usuarios están de acuerdo con las posiciones listadas.
1. Bocchi the Rock!.
2. Lycoris Recoil.
3. Gotoubun no Hanayome The Movie (The Quintessential Quintuplets).
4. Chainsaw Man.
5. SPY x FAMILY.
6. Kaguya-sama: Love is War – Ultra Romantic.
7. One Piece Film Red.
8. Summertime Render.
9. Sono Bisque Doll wa Koi wo Suru (My Dress-Up Darling).
10. Blue Lock.
11. Suzume no Tojimari (Suzume's Door-Locking).
12. Mobile Suit Gundam: The Witch from Mercury.
13. Akebi-chan no Sailor-fuku (Akebi's Sailor Uniform).
14. Shingeki no Kyojin: The Final Season – Part 2 (Attack on Titan).
15. Classroom of the Elite 2nd Season.
16. Bleach: Thousand-Year Blood War.
17. Kimetsu no Yaiba: Yuukaku-hen (Demon Slayer: Entertainment District Arc).
18. Boku no Hero Academia 6th Season (My Hero Academia).
19. Isekai Ojisan (Uncle from Another World).
20. Sword Art Online: Progressive – Scherzo of Deep Night (Sword Art Online: Progressive Movie – Kuraki Yuuyami no Scherzo).
21. Made in Abyss: Retsujitsu no Ougonkyou (Made in Abyss: The Golden City of the Scorching Sun).
22. Yofukashi no Uta (Call of the Night).
23. Yuru Camp The Movie (Laid-Back Camp).
24. The Eminence in Shadow (Kage no Jitsuryokusha ni Naritakute!).
25. JoJo's Bizarre Adventure: Stone Ocean.
26. Kawaii dake ja Nai Shikimori-san (Shikimori's Not Just a Cutie).
27. Overlord 4th Season.
28. Paripi Koumei (Ya Boy Kongming!).
29. Detective Conan The Movie XXV: The Bride of Halloween.
30. Kanojo, Okarishimasu 2nd Season (Rent A Girlfriend).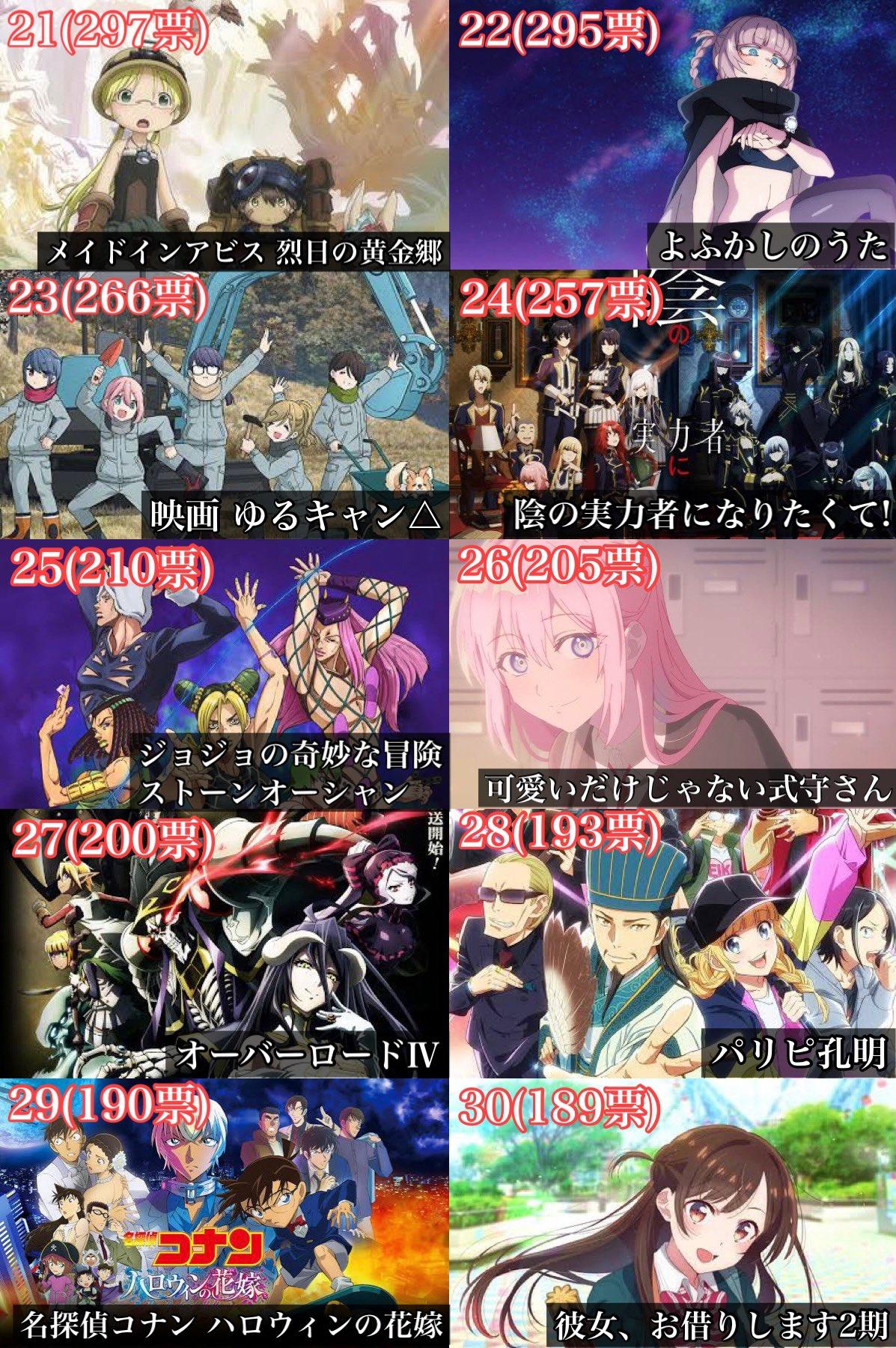 Fuente: Yaraon!
La entrada Estos fueron los mejores animes de 2022 según los japoneses se publicó primero en Kudasai.