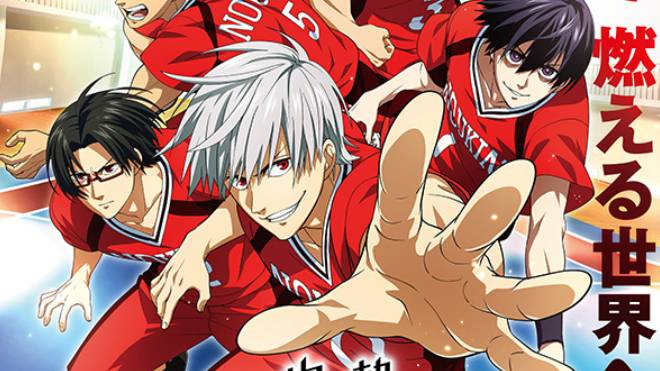 La web oficial de la adaptación televisiva animada del manga Burning Kabaddi (Shakunetsu Kabaddi) de Hajime Musashino ha concretado la fecha de estreno de la serie, de la cual hasta ahora solo sabíamos que sería en algún punto de primavera. El anime emitirá su primer episodio el día 2 de abril en TV Tokyo, TV Osaka, TV Aichi y AT-X.
Junto al anuncio de la fecha nos dejaban una nueva imagen promocional.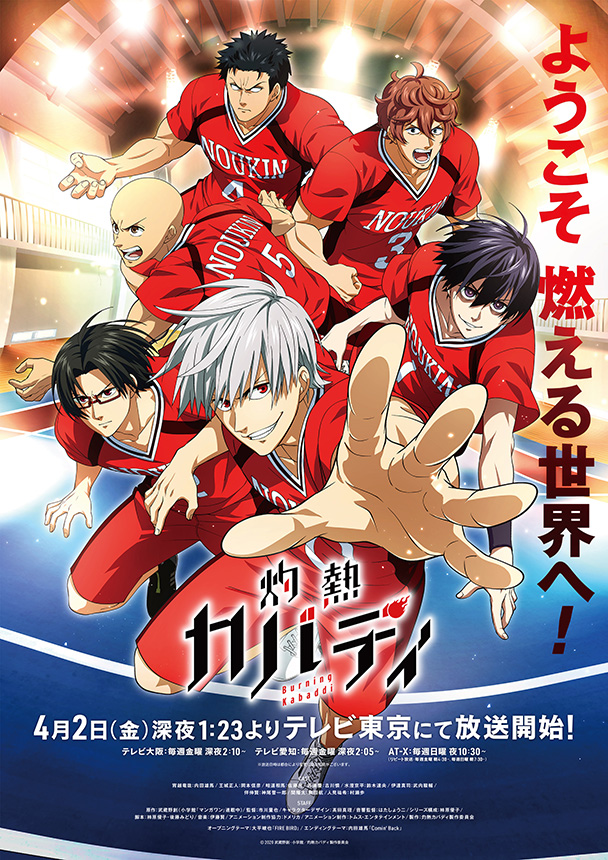 El reparto anteriormente anunciado:
Nobuhiko Okamoto como Masato Ohjyo
Yuma Uchida como Tatsuya Yoigoshi
Gen Sato como Soma Azemachi
Makoto Furukawa como Kei Iura
Tatsuhisa Suzuki como Kyohei Misumi
Shunsuke Takeuchi como la voz de Shinji Date
Shin'ichiro Kamio como Nobutaka Ban
Wataru Komada como Ryuta Seki
Ayumu Murase como Yuki Hitomi
En el equipo estarán:
Obra original: Hajime Musashino (publicado en la aplicación MangaONE de Shogakukan)
Dirección: Kazuya Ichikawa (The World Ends with You The Animation)
Diseño de personajes: Mari Takada (Bakugan Battle Planet)
Dirección de sonido: Shoji Hata (The Ancient Magus' Bride, Fairy Tail)
Composición de serie: Yuuko Kakihara (Digimon Adventure tri.)
Guiones: Yuko Kakihara, Midori Gotou
Música: Ken Itō (I'm Standing on 1,000,000 Lives)
Asistencia de producción de animación: Domerica
Producción de animación: TMS Entertainment
El opening será el tema "FIRE BIRD", interpretado por Shunya Ohira, mientras que Yuuma Uchida se encargará del ending con "Comin' Back.".
El manga está protagonizado por Tatsuya Yoigoshi, estudiante de primer año de preparatoria y que antiguamente solía ser el as de su equipo de fútbol, pero lo dejó porque aborrece los deportes. Cuando le invitan a formar parte del equipo de kabaddi, su primera impresión es que quiere rechazarlo, pero tras ver cómo entrena el equipo se le despierta el interés.
Musashino lanzaba el manga en la aplicación Manga ONE y la web Ura Sunday de Shogakukan en 2015. Como dato, la serie entró en el top 20 de mangas para hombres en la famosa guía "Kono Manga ga Sugoi!" en su edición de 2017.
Antigua imagen promocional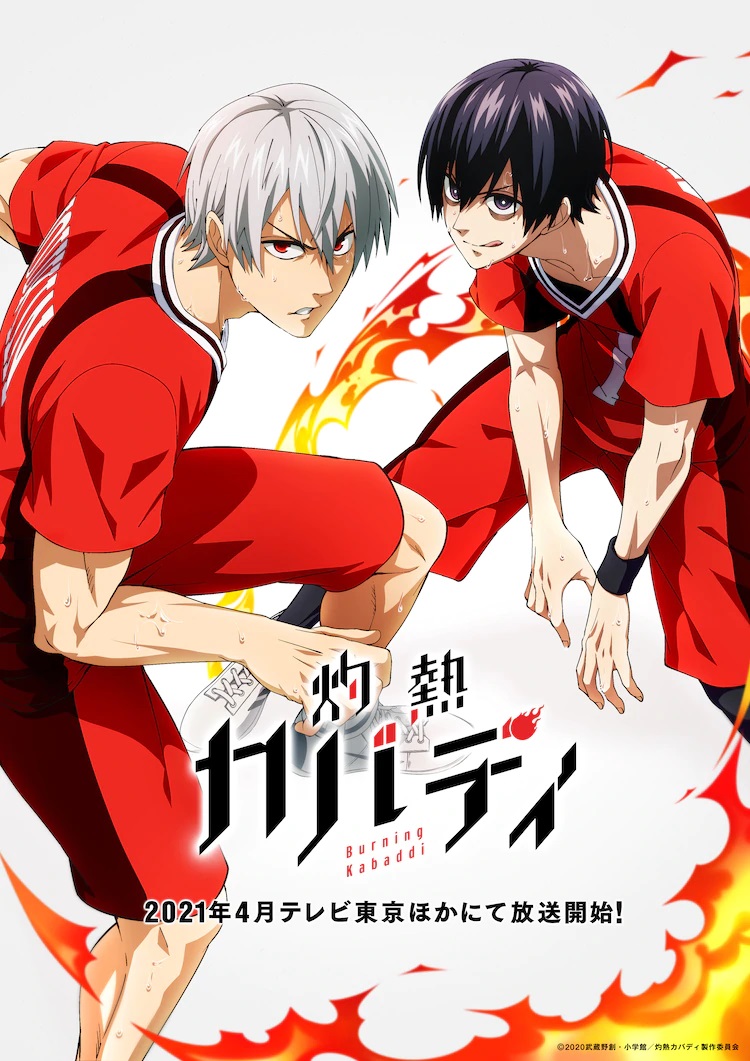 Fuente: Web oficial de Burning Kabbadi
Copyright: © 2020 Hajime Musashino・Shogakukan / Burning Kabaddi Production Committee
---