El equipo de voleibol más popular del anime moderno regresaba esta temporada con su nueva entrega, HAIKYU!! TO THE TOP. y mientras algunos pelean por ser el mejor en su posición, nosotros decidimos enfrentarlos a todos contra uno de los enemigos de personajes más duros que hay: ¡LA POPULARIDAD!
Lanzamos una encuesta en la que más de 30,000 fans votaron cuál era su personaje favorito, y aquí tenemos los resultados. ¿Qué opinarás de los ganadores?
Resultados: #29 – #4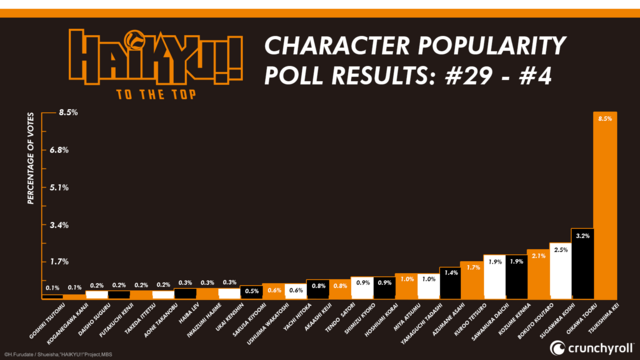 ¡Y aquí el Top 3!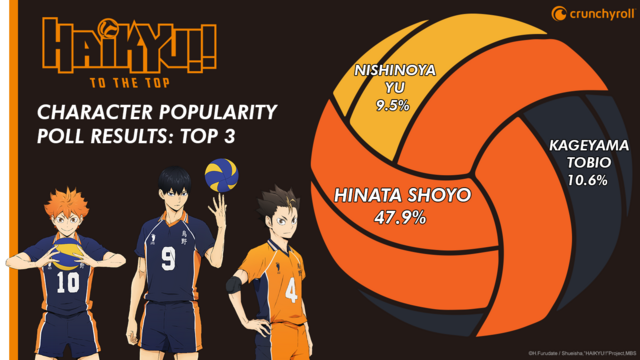 Desglose total de los votos
| | |
| --- | --- |
| Personaje | Porcentaje |
| Shoyo Hinata | 47.90% |
| Tobio Kageyam | 10.60% |
| Yu Nishinoya | 9.50% |
| Kei Tsukishima | 8.50% |
| Tooru Oikawa | 3.20% |
| Koshi Sugawara | 2.50% |
| Koutaro Bokuto | 2.10% |
| Kenma Kozume | 1.90% |
| Daichi Sawamura | 1.90% |
| Tetsuro Kuroo | 1.70% |
| Asahi Azumane | 1.40% |
| Tadashi Yamaguchi | 1.00% |
| Atsumu Miya | 1.00% |
| Korai Hoshiumi | 0.90% |
| Shimizu Kyoko ¡ | 0.90% |
| Satori Tendo | 0.80% |
| Keiji Akaashi | 0.80% |
| Yachi Hitoka | 0.60% |
| Wakatoshi Ushijima | 0.60% |
| Kiyoomi Sakusa | 0.50% |
| Keishin Ukai | 0.30% |
| Hajime Iwaizumi | 0.30% |
| Lev Haiba | 0.30% |
| Takanobu Aone | 0.20% |
| Ittetsu Takeda | 0.20% |
| Kenji Futakuchi | 0.20% |
| Suguru Daisho | 0.20% |
| Kanji Koganegawa | 0.10% |
| Tsutomu Goshiki | 0.10% |